How it works
High-protein plans support weight loss by keeping you full longer and preventing loss of calorie-burning muscle mass.
Personalize your protein target based on your body weight and nutrition goals.
It's a good fit for athletes and people looking to build muscle mass. Choose animal and plant-based protein sources along with healthy carbs and fats.
PROS:
Protein-rich foods keep you full longer and reduce hunger, making it easier to stick to your weight loss plan
Helps prevent muscle loss accompanying weight loss, maintaining a higher metabolic rate
Enjoy flavorful, filling foods and recipes
Perfect for athletes – get strong and energized with high-quality carbs and healthy fats
CATEGORIES:
2000 kcal/day
2500 kcal/day
3000 kcal/day
Muscle Gain Program
Goals
Losing Weight and Gain Muscle Mass.

Maintain Current Weight and Gain Muscle Mass.

Manage Diabetes type 1 & 2.
Muscle Gain Program is
Friendly to
Athletes & Muscles Gain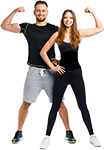 Prices
full day meals for BETTER RESULTS
SHIPPING:
2Boxs/day is Mandatory to some areas.
Zone
Fees

Box/day

at least
Maadi
20

1

The 5th Settlement
40

1

The 1st Settlement
40

1

Giza, Dokki, Agouza, Mohandeseen
40

1

Al Rehab, Masr Al Jadidah, Nasr City
50

1

6 October
60

1

El Shorouk, El Obour City
100

2
You can Choose to have 2Boxs/day to cut shipping cost.
Check other Programs
All diet to door's programs are based on the Dietary Guidelines of American Public Health Association and WHO, 2020-2025.